CBD Update: Cannabinoid-containing products (including CBD products) – status changed to novel food
The European Union's Novel Food Regulations ((EU) 2015/2283) state that any product considered to be a novel food requires authorisation from the European Commission before it can be sold as a foodstuff in the EU. A food is considered novel if there is no history of it being consumed to a significant degree in the EU before May 1997. A recent submission for a change to the "cannabinoids" entry in the EU Novel Foods Catalogue (http://ec.europa.eu/food/safety/novel_food/catalogue/search/public/?event=home&seqfce=972&ascii=C) changes the status of cannabinoid-containing products (including CBD products) to that of a novel food:
"…extracts of Cannabis sativa L. and derived products containing cannabinoids are considered novel foods as a history of consumption has not been demonstrated. This applies to both the extracts themselves and any products to which they are added as an ingredient (such as hemp seed oil). This also applies to extracts of other plants containing cannabinoids. Synthetically obtained cannabinoids are considered as novel."
The FSA released the following response to this submission in early February:
"Cannabidiol extracts are considered unauthorised novel foods and therefore are not allowed in food supplements.  We are considering the way forward in the light of clarification of the novel food status of CBD extracts in food and food supplements at EU level. We are meeting with relevant industry representative bodies, local authorities and other stakeholders to clarify how to achieve compliance in the marketplace in a proportionate manner and will be providing advice for Local Authorities shortly."
No new updates have been released as yet from the FSA.
Other CBD Links – CAP/ASA advice to advertisers of CBD containing products
CBD – A potted history and how not to hash up: CAP News29 Nov 2018
Cannabidiol (CBD) containing products – Advice online: 29 Nov 2018
---
JOB OPPORTUNITY
Content Editor, Kew Medicinal Plant Name Services, Kew Gardens
It's an exciting time to join Kew and, in particular, the Plants & Fungal Names Curation team as it embarks on a period of innovation and transformation.
Kew's Medicinal Plant Names Services (MPNS) employs Kew's globally recognised taxonomic and nomenclatural references to support health professionals, regulators, practitioners, the trade and natural product scientists in finding and communicating reliably data concerning medicinal plants. We seek to expand the scope to include food supplements and plants that are poisonous or responsible for allergenic reactions.   For full details click here.
Contract Type: Fixed Term (FTA) Contract end date: 18 Months Salary: up to £27,325 per annum, depending on skills and experience
Directorate:  Science    Location:  Kew Gardens, Richmond     Closing Date: 27/01/2019
---
JOB OPPORTUNITY
Head of Herbal Development, Pukka Herbs
Pukka Herbs is looking for an inspiring expert in herbal medicine with experience of product development and innovation across a growing portfolio.
Click here for more information. Closing date to apply is 31st January 2019.
---
Known Herb / Drug Interactions are Easily Checked
[28 Sept 18] Responding to national newspaper reports on herb / drug interactions this week, Chris Etheridge, Chair of the British Herbal Medicine Association says: "Whilst it is well known that in a few well documented cases, herbal medicines can affect the way prescribed and over-the-counter medicines work – such as St John's Wort – the majority of herbal medicines are not known to affect prescription medicines in this way. 
"Anyone that is considering taking a herbal medicine should always buy one that displays the THR logo on the pack. It is important that you read the THR in-pack leaflet before taking the herbal medicine in order to ensure that it is safe and appropriate to do so. If you are taking another medicine, either prescribed by your doctor or over-the-counter, it is also sensible to double check its leaflet to ensure that it is safe to take the medicines and herbal medicine together. The information contained in these leaflets is accurate and reliable, and has been approved independently by the UK medicines licensing authority, the Medicines and Healthcare Products Regulatory Agency." For more information on how to check if your herbal medicine can be taken with your prescribed medicine, click here.
---
BHMA & HFMA Joint Seminar – Maintaining High Quality Standards in Herbal Products
Thursday, 20th September, London
In recent years the quality of both traditional herbal medicinal products and herbal/botanical food supplements has come under increasing scrutiny – and at times has been found wanting. This seminar will prove invaluable for all those involved in the supply chain for herbal/ botanical products – from the growing and harvesting of the plant, the manufacturing process, the marketing of the end product, though to the end consumer.
We are particularly pleased to welcome as one of the speakers, Michael McGuffin, President of the American Herbal Products Association (AHPA), as part of a very strong line-up of speakers.
Members and Non-Members are welcome. For more information and to register click here
---
BHMA AGM & Herbal Medicine Seminar (London) – 7th June 2018
BHMA Members are invited to attend both the AGM and Herbal Medicine Seminar.
BHMA Members should log into the members section of the site for a full itinerary and registration form.
Non-members are welcome to attend the Herbal Medicine Seminar – a full itinerary and registration form can be found by clicking here.
---
New BHMA Chair Appointed
Having worked tirelessly for the BHMA in recent years, we are both sad to announce the standing down of our current Chairman, Dr Dick Middleton, and pleased to announce that Dr Chris Etheridge has been appointed as our new Chair of the BHMA effective from 1 January 2018.
Although Dick Middleton is retiring from his day job and standing down as BHMA Chairman, he will continue to contribute to our Association, working closely with other board members to ensure progression of the regulation of herbal medicines that are available to the public in the UK, either OTC or through herbal practitioners.
Speaking of his appointment, Chris Etheridge says: "I feel deeply honoured to be taking on the role of Chair of the BHMA from Dick Middleton. I look forward to continuing his excellent work in promoting the THR scheme, and further developing the supportive seminars and workshops for THR holders. In addition, the BHMA will also look at creating a new online resource for all health professionals, where they can access information about THR products. The BHMA's Herbal Practitioner Suppliers Scheme (HPSS) will continue to build a standard level of GMP across the whole practitioner supplier sector, improving any quality issues that may exist.
"I look forward to facing the challenges of being the BHMA chair. This is a critical time for herbal medicine and I believe the BHMA is in a strong and unique position to be a leading authority in defining the continued future of herbal medicine in the UK and beyond."
The BHMA extends its thanks to Dick Middleton for all his hard work and dedication as BHMA chair for the last few years. We all owe him a large debt of gratitude.
---
SEMINAR – Understanding eCTD Submissions: the impact on your company – Wednesday 17th January 2018
Venue: London Mathematical Society, De Morgan House, 57-58 Russell Square, London, WC1B 4HS
The inevitable progress of electronic dossiers becoming a mandatory requirement for regulatory submissions has been evolving in many Health Authorities in recent years. The common requirement for submissions in eCTD (electronic Common Technical Document) is now well established in the EU, and will impact herbal medicines with Marketing Authorisations and Traditional Herbal Medicines.
This seminar aims to explain the mystery of an eCTD, focusing on the technical requirements, and providing practical advice on how to build and publish submissions to the required standard expected. It will also consider the advantages and disadvantages in outsourcing such operations to an external provider.
This seminar is open to both BHMA members and non-members. Click here to book.
---
---
SEMINAR – Pharmacovigilance for Herbal Medicines: Update for 2018 – Thursday 14th December 2017
Venue: London Mathematical Society, De Morgan House, 57-58 Russell Square, London, WC1B 4HS
There have been many changes to pharmacovigilance requirements in the past 5 years with the introduction of new legislation, and there have been many challenges in the practical implementation into everyday pharmacovigilance activities.
This seminar aims to update industry on the pharmacovigilance requirements moving forward into 2018, and focus on key pharmacovigilance areas impacting those companies with Marketing Authorisations and Traditional Herbal Registrations for herbal medicines. It will also cover what to expect should a pharmacovigilance inspection take place in a company.
This seminar is open to both BHMA members and non-members. Click here to book.
---
WORKSHOP – High Performance Thin Layer Liquid Chromatography (HPTLC) – Friday 17th November, 2017
Where:  University of Westminster, London
Our speakers are: Sam Stringer from Omicron, Tony Booker from the University of Westminster and Christina Gouva from the British Pharmacopoeia; in the afternoon there will be a practical "hands on" laboratory session.
Places are extremely limited and a large amount of interest is expected in this event.
This event is open to both BHMA members, company members and non-members. If you would like to book a place please complete and return the registration form. If you wish to pay by credit card please do NOT email your card details, but return your form by post or fax (0845 680 1136).
---
JOB OPPORTUNITY
Head of Herbal Education (Bristol)
Pukka Herbs – Are you an inspiring expert in nutrition / herbal medicine with experience of delivering herbal educational programmes? Do you aspire to deliver industry leading herbal education and training, and work for a purposeful, sustainable and growing ethical brand? We are looking for a Head of Herbal Education to inspire and lead Pukka's best-in-field herbal training and online education. Based in our Bristol office, the role comes with a competitive salary and a benefits package designed to nurture your wellbeing and personal development. Click here for more information.

Published:  14th September 2017
Deadline to apply: 9th October 2017
---
JOB OPPORTUNITY
Herbal Research Specialist (Bristol)
Pukka Herbs – Do you aspire to deliver cutting edge herbal research and work for a purposeful, sustainable and growing ethical brand? Are you an expert in herbal medicine / nutrition, and ideally have some practical commercial experience gained within the food or herbal industry? We are looking for a Herbal Research Specialist to support and develop Pukka's research portfolio. Based in our Bristol office, the role comes with a competitive salary and a benefits package designed to nurture your wellbeing and personal development. Click here for more information.
Published:  14 September 2017
Deadline to apply: 9th October 2017
---
BHMA MEMBERS DISCOUNT – ONE DAY RCHM CONFERENCE, 22ND MAY, CHELSEA PHYSIC GARDEN
The Register of Chinese Herbal Medicine has organised a one day conference at the Chelsea Physic Garden and offers BHMA a generous discount to attend.
This year the conference will discuss the evidence base for the role of herbal medicine in the treatment of women's health conditions such as endometriosis, PCOS, menopause and infertility. An exceptional group of experienced clinicians from across the different herbal traditions and the Royal College of Obstetricians, as well as researchers and lecturers from Southampton University and the University of Westminster will give presentations to RCHM and BHMA members as well as the orthodox medical community and discuss the potential contribution of herbs to treat women's health conditions. A garden tour is included as part of the day.
PLEASE VISIT THE MEMBERS PAGE FOR MORE DETAILS
---
BHMA Herbal Medicine Seminar (Thursday 15th June 2017, University of Westminster, 120 New Cavendish Street, London W1W 6XX)
The BHMA is again running its Herbal Medicine Seminar; a programme that addresses regulatory and scientific updates from across the herbal sector. Popular last year, we encourage you to book your place now. BHMA Members attend the AGM and seminar FREE.
Non-Members with an interest in herbal medicines are welcome to attend; a booking fee is required to reserve your place.
Click here for full information, pricing and seminar programme.
---
CALLING ALL BHMA MEMBERS – FREE SUMMER SEMINAR
EVENT:   Seminar on quality, safety and efficacy of granule/powder formulations
WHEN:    Saturday 17th June 107
WHERE: University of Westminster, London
Chaired by the University School of Pharmacy's Professors Michael Heinrich and Anthony Booker, the all day seminary programme will explore the safety and efficacy of granule / powder formulations, and how to use them effectively. A panel of prestigious speakers present an interesting and informative range of topics to delegates.
For more information and to book, Click Here
---
EVENT:    HerbFest UK 2017 – Bringing People & Plants Together
WHEN:    29th April to 2nd May 2017
WHERE: Monte Mariposa, Portugal
In its tenth year, HerbFest will take place, this time in Portugal during April and May 2017.
HerbFest is an international herbal gathering for herbal enthusiasts from many different walks of life. There is an impressive line up of expert lecturers, and there will be a plethora of talks, practical workshops, plant walks, discussions and debates, as well as plenty of time to relax and enjoy the company of like-minded people.
There are only a few places left.
To find out more information click here, or visit www.herbfest.co.uk / www.facebook.com/herbfestuk.
---
EVENT:     PHYTOTHERAPY FOR MIND, MOOD & MENTATION
WHEN:     SATURDAY, 25TH MARCH 2017
WHERE:  THE CLORE MANAGEMENT CENTRE, BIRBECK, UNIVERSITY OF LONDON
The College of Practitioners of Phytotherapy will host its Continual Professional Development (CPD) seminar, 'Phytotherapy for Mind, Mood & Mentation' in London on 25th March 2017. Attendance at this seminar attracts 4 CPP / CPD points. The full day seminar includes presentations that discuss nutrition and herbs for brain health, and explores the use of herbs for conditions such as low mood and schizophrenia. Click here for the full seminar programme. Click here for booking form and payment form.
---
EVENT:  AYURVEDA; THE PURSUIT OF HEALTH, HAPPINESS & LONG LIFE THROUGH PREVENTION ORIENTED HEALTHCARE
WHEN:  1-2 APRIL 2017, HOTEL NOVATEL LONDON WEST (HAMMERSMITH)
The International Ayurveda Congress will be held in London on 1-2 April 2017 titled Ayurveda – The Pursuit of Health, Happiness and Long Life. Through Prevention Oriented Health Care.
Prevention of ill health is the area of health care in which all complementary health care modalities as well as conventional health care can come together most easily. The speakers at the congress include eminent physicians and researchers who will give profound insights into both the fundamentals and fullest extent of health which may be of interest to BHMA members. The Indian Government attaches particular importance to this conference and the Union Minister of AYUSH will attend.  For more information or to register click here.
---
EVENT:  'PRESERVATION MATTERS IN THE HISTORY OF HERBAL MEDICINE'
WHEN:   10.30–4.30, Wednesday 7th June 2017
WHERE: Birmingham Botanical Gardens, Westbourne Rd, Edgbaston, Birmingham, West Midlands B15 3TR
UK DAY SEMINAR PROGRAMME
'Early medieval herbal formulations: Are we missing something?' (Dr Frances Watkins, Herbal History Research Network)
'Traditional remedies and modern science: A Russian-German project from the 1880s.' (Professor Vivian Nutton, I.M. Sechenov First Moscow State Medical University)
'The medico-botanical world of a 1598 Italian manuscript.' (Dr Raffaella Bruzzone, University of Nottingham)
'Preservation matters: Exploring historical recipes in a practical sense.' (Christina Stapley, Weald and Downland Open Air Museum)
'What books might herbalists have used in mid-Victorian Britain?' (Alison Denham, Herbal History Research Network)
REGISTRATION: Full programme and registration form at http://www.herbalhistory.org/home/
---
4 JANUARY 2017 – BRITISH HERBAL MEDICINE ASSOCIATION PUBLIC STATEMENT
The BBC website (3 January 2017) reports on a warning given by doctors about the dangers of New Year detoxes. The story highlights the case of a 47 year old woman who required treatment in an intensive care unit last year after drinking too much water, and taking a variety of herbs contained in herbal food supplements. The woman fully recovered after treatment.
Chairman of the BHMA, Dr Dick Middleton, noted that there are no THR herbal medicines available for "detox", which is a marketing rather than a medical type of terminology. He commented that whilst some herbal products are used to maintain health and are sold as herbal food supplements, herbal remedies are regulated and sold as medicines and should be treated with care and taken appropriately. Any person who wishes to use an herbal medicine, often to treat minor ailments, should purchase one that displays the THR logo on the packaging. The THR logo shows that the herbal medicine has been approved by the UK Licensing Authority, the Medicines and Healthcare Products Regulatory Authority (MHRA) and is of assured quality. Reading the approved patient information leaflet inside the pack will explain whether the herbal medicine is appropriate to take and how to take it safely.
Dr Middleton further commented that "because THR herbal medicines are regulated by the MHRA, and their quality is reviewed on an ongoing basis, consumers can have confidence that THR products are of the highest quality and can be used safely where appropriate. If in doubt or if you are taking any medicines or have any pre-existing medical conditions, always consult your GP."
A copy of this statement can be downloaded here.
---
THE RCHM CONFERENCE 2016: ANCIENT TRADITION, MODERN WORLD
Our friends at the Register of Chinese Herbal Medicine would like to invite BHMA members to its annual conference running from Friday 28th October until Sunday 30th October 2016, King's College & University of Westminster, London.
The conference theme this year is 'Ancient Tradition, Modern World'. Speakers will elucidate how Chinese medicine got here and how practitioners can get the best from our traditions to meet modern challenges.
This year Simon Becker as the keynote speaker on the Saturday speaking on Supporting Cancer Patients with Chinese Medicine. Simon has not only gained considerable experience and knowledge from working in a hospital integrated clinic but he is also a leading researcher and academic in the field of drug-herb interactions.
Early bird booking before 11.59pm on Friday 9th September will give you the advantage of a brilliant value rate. For the full conference programme and for booking visit the RCHM website by clicking here.
---
6 SEPTEMBER 2016
It is with great sadness that we report the passing of David Carter from a brain tumour. David worked for the MHRA and its forerunner the MCA for 26 years. He first started work in the Inspection and Enforcement Division Licensing Office, before moving into a policy role in the Division. He will, of course, be best remembered as the Manager of the Medicines Borderline Section, a post he held for many years.
Dr Dick Middleton, Chair of the BHMA says: "It is with great sadness that I learnt of the untimely passing of David Carter. I am sure that all members of the BHMA will join with me in expressing our sincere condolences to David's family and friends at this very sad time."
---
THE BHMA ANNUAL HERBAL SEMINAR (23/6/2016) – REVIEW
The BHMA Annual Herbal seminar held in London on the 23rd June with the theme of "Quality – meeting new challenges" was an opportunity for members and guests to better understand and discuss this important area of herbal medicine. It was particularly opportune with the recent formation of the Herbal Practitioner Suppliers Section (HPSS) of the BHMA. This section was formed with the objective of creating a platform for suppliers who wished to drive up standards in what is an unregulated sector of the industry. Dr Dick Middleton, Chairman of the BHMA commented: "It was particularly pleasing to listen to members of the HPSS speak about aspects of good practice within their organisations. Their willingness to share and discuss key issues and potential solutions bodes well for the future of the Section and the Practitioner Supplier sector generally."
Presentations made at the AGM have kindly been made available for your information and can be downloaded by clicking the links below:
Anthony Booker AGM Presentation
Chris Etheridge AGM Presentation – PAs Practitioners Perspective
Barry Moore AGM Presentation – PAs Good Practice
Steve Williams AGM Presentation – Microbial Challenges
Mike Gaston AGM Presentation HPTLC
---
JOB OPPORTUNITY
International Accounts Manager, Supplements
Pukka Herbs – creators of delicious organic herbal teas and incredible health supplements that take people on a journey of discovery to a healthier, happier life – is looking for a talented International Accounts Manager to focus on supplements and superfoods sales.
Click here for more information about the full role.
Published on:  13th April 2016
Deadline to apply: 24th April 2016
---

JOB OPPORTUNITY
Head of Supplements Marketing
Based in Bristol you will be responsible for developing all aspects of the strategy and marketing of over 40 supplements. From in-store staff training and developing consumer and trade campaigns, to evolving the product range, Pukka Herbs  is looking for someone with flair and imagination to lead its marketing team. Click here for more information about the role.
Published on:  24th February 2016
Deadline to apply:  6th March 2016
---
BBC Trust Me I'm a Doctor
In July 2015 a television programme 'Trust Me I'm a Doctor' was broadcast on BBC2. A 15 minute slot on the programme looked at the subject of the quality of food supplements and whether the public were buying these products under false assumptions. Led by researchers at the UCL School of Pharmacy, it was shown that about a quarter of all the products tested were of sub-standard quality and some appeared to be completely fake. The programme attracted approximately 5 million viewers and prompted much debate in the media, however at this time the situation remains the same. The failure of any regulatory or trading standards body to take any action means that these products continue to be widely available on the UK market. The BBC has made available a clip and information about this programme; we've embedded the clip here. For more information about the making of this programme and its findings, members will receive a full update in the December issue of POST.
---
Government Refusal to Regulate UK Herbal Practitioners as 'Ideological Madness'
The BHMA endorses the views held by the European Herbal and Traditional Practitioners Association (EHTPA) and detailed in their recent press release that Government inaction on statutory regulation of herbal practitioners is a significant risk to public health.
The Walker Report recommendations earlier this year, authored independently by Professor Walker, whilst including detailed minutes of the Government Working Group meetings, unsurprisingly failed to include the damning Safety Report by the Herbal Medicines Advisory Committee (HMAC). This report, commissioned by Professor Walker, has now, commendably, been placed in the public domain by the EHTPA, and makes depressing and stark reading in terms of the ongoing safety to public health.
If the expected Government endorsement of Professor Walker's recommendations goes ahead later this month, it is difficult to see how this can be anything other than an ongoing significant risk to public health, given the facts laid out in the HMAC Safety Report.
Dr Dick Middleton, Chairman of the BHMA says: "The BHMA is particularly concerned at the quality of supply of herbal materials dispensed by unregulated herbal practitioners. The HMAC Safety Report is littered with examples of poor, unsafe and unregulated practice which has risked, and continues to risk, the health of patients.
"The Government's policy on reducing bureaucratic regulation is clear, and where appropriate, is commendable. However, on this occasion, the BHMA believes that continuing lack of regulation of herbal practitioners will continue to damage public health to a significant extent. Furthermore, this risk will only increase as growing patient numbers, disenfranchised with an over-burdened National Health Service, turn to alternative treatments that lack substantial governance or regulation."
---
Joint HFMA / BHMA Seminar
'Botanicals & Quality – Building a secure foundation'
 09.30 to 16.30pm, Tuesday 24th November 2015
Senate House, The Chancellor's Hall, Malet Street, London, WC1E 7HU
This is the latest in a series of successful seminars organised jointly by the HFMA and BHMA.
The quality of botanical products has recently been seriously questioned in the media, primarily in the US but now also here in the UK. These challenges to product quality are both serious and ongoing, and UK industry needs to ensure that its house is in order
This seminar will aim to do just that. Led by technical experts from industry and academia, the presenters will examine the building blocks of quality management and how best to ensure excellence throughout the supply chain, from raw material, through manufacturing, to finished product.
Click here for more information and booking form.
Members and Non-Members are all welcome.
---

Career Opportunity
Pukka Herbs – Herbal Quality Technician
Based in our Bristol Head Office, a competitive salary (permanent contract, full time hours) which comes with a benefit package designed to nurture your wellbeing.
Click here for job description and application link.
Published:  Friday 25 September 2015
Deadline to apply: Sunday 11th October 2015
---
LECTURE – Professor Frank Fish Memorial Award 2015
When: Thursday 15th October 2015
Where: UCL School of Pharmacy, 29-39 Brunswick Square, WC1N 1AX London
Time: 5pm to 7pm
Cost: Free
On Thursday, 15 October 2015 the fourth Frank Fish Memorial lecture entitled 'Potential and challenge of traditional Chinese medicine to meet unmet clinical needs' will be given by Prof. Tommy (Yung-Chi) Cheng from Yale University. We are delighted that a one of the world's leading experts in pharmacology focusing on Traditional Chinese Medicine (TCM) will give this year's lecture.
Click Here for more information or to book.
The Professor Frank Fish Memorial Award lectures have been generously funded by Professor Fish's family. Professor Frank Fish was well known in the field of pharmacognosy and phytochemistry, and was Dean at the School of Pharmacy from 1978 – 1988.
Published: 8 September 2015
---
NEW Book and Members Offer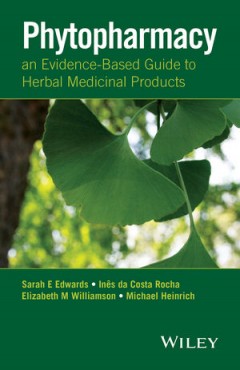 BHMA Directors, Dr Sarah Edwards and Professor Liz Williamson together with UCL's Ines da Costa Rocha and Professor Michael Heinrich have co-authored a new book, 'Phytopharmacy – an Evidence-Based Guide to Herbal Medicinal Products' (www.wiley.com, £39.95).
Phytopharmacy is intended for the busy pharmacist, nurse or doctor, who needs to be able to offer balanced, well-informed advice to patients who use herbal medicinal products and food supplements (often based on limited or inaccurate information from non-scientific sources such as the popular media). Students of pharmacy and herbal medicine, health food shop retailers who sell these products, as well as the 'expert patient' will also find Phytopharmacy useful. The book presents clear, practical and concise monographs on over a hundred popular herbal medicines and plant-based food supplements. Information provided in each monograph includes indications, summary and appraisal of clinical / pre-clinical evidence, potential interactions, contraindications and possible adverse effects.
To purchase the book, click here.
BHMA Members Offer: A 30% promotional discount is offered to BHMA Members. For more information visit the members area of this website.
Published:  21 July 2015
---
EHTPA Reaffirmation of Purpose, 17 July 2015
The BHMA continues to support the work of the EHTPA and in particular, the challenge of providing high quality herbal ingredients for use by herbal practitioners. The EHTPA has recently undertaken a review of its aims, work and structure and with the support of its constituent professional associations from across the herbal traditions, remains dedicated to obtaining a secure legislative basis for herbal practice in the UK. The EHTPA will continue to make the case for the statutory regulation of herbal practitioners in the interests of the many UK citizens regularly seeking herbal treatment. The BHMA fully supports this action. To read the full EHTPA reaffirmation of purpose, click here: EHTPA Reaffirmation of Purpose July 2015
Published: 17 July 2015
---
National News – Tuesday 14th July 2015
The Daily Mail and BBC Online News have printed information about the findings of the next BBC programme Trust Me I'm a Doctor, due to be aired on Wednesday 15th July. The findings illustrate the importance for consumers to choose traditional herbal medicines when purchasing herbal products. Herbal medicines regulated under EU medicines law are suitable for treating self-limiting minor ailments. These herbal medicines display a THR logo on the carton and they always include an in-pack leaflet which gives reliable, approved customer information. All of these herbal medicinal products are of consistently high quality and can be purchased by consumers with confidence. Herbal products that do not include a THR logo on the pack are not regulated as medicines and may, in a number of cases, not be manufactured to such high standards.
The BHMA website www.bhma.info gives detailed information about traditional herbal medicines that are available to purchase in the UK, both on-line and in retail outlets.
To find THR traditional herbal medicines for a range of indications such as coughs and colds, or stress and anxiety, click here: https://bhma.info/indications/
---
---
BHMA Members shared memories, laughter and thought provoking opinions as they celebrated the BHMA 50th Anniversary at the Barber Surgeon's Hall, 11 June 2015.
The AGM commenced mid-morning with forty members present to review the BHMA's year and financial accounts, after which a further 50 members joined the event and enjoyed an outstanding herb themed lunch in the convivial surroundings of The Great Hall.
"The 50th Anniversary Celebration Lunch was an inspiring occasion," said current Chairman, Dr Dick Middleton. "The opportunity to reminisce over past challenges and achievements was made all the more easy with a splendid display of memorabilia, put together by Board Member Peter Bradley. This was complemented further perfectly by an inspiring speech from Victor Perfitt, a past-Chairman of the BHMA, who gave an often amusing snapshot into the characters and personalities who have shaped the Association over the last 50 years."
Dr Middleton rounded off the proceedings with a speech in which he reminded the audience of the enormous improvements that current European regulations have made to public safety in relation to OTC herbal medicines. He congratulated the many companies involved in manufacturing and marketing THR herbal medicines as well as the MHRA regulators, in improving public safety and ensuring a wide availability of high quality medicinal herbs such as St John's Wort, Black Cohosh and Echinacea. Dr Middleton reminded the audience that low quality botanicals are still appearing on the UK market, particularly through websites, with alarming regularity and that the BHMA in the future would work closely with both UK and International trade associations, professional herbal practitioner associations, regulators, academic experts and the media to educate companies and improve the quality of global supply chains.
Special thanks go also to The Beadle of the Barber Surgeons' Hall for making the BHMA most welcome, to Vicky the archivist for opening up the library to share the 16th and 17th Century editions of John Gerard's 'Herball' and finally, to Dr Timothy Cutler for his informative and entertaining speech on the history of the herb garden at the Hall.
---
National News
27 March 2015: Government U-turn leaves public safety at risk from rogue herbalists
The EHPTA and the BHMA has issued a joint press release in response to Professor David Walker's 'Report on the Regulation of Herbal Medicines' published late on Thursday 26 March 2015. Despite previous agreement that statutory regulation could be the only way to safeguard the public from poorly trained and unethical herbal practitioners, in the report Professor Walker recommends voluntary accreditation by the Professional Standards Authority (PSA).
In objection to the recommendation for voluntary accreditation, an open letter to the Department of Health has subsequently been supported and signed by over half of the Herbal Practitioner and Medicines Working Group objecting to the report and calls on the government to reconsider its decision in the interest of public health. Click here for a copy of the full letter.
Dr Dick Middleton, Chair of the BHMA said, "The BHMA fundamentally disagrees with the recommendations made by Professor Walker which he has made to the Government under the guise of the Herbal Medicine Practitioners Working Group. We are particularly concerned that at a time when the quality and provenance of herbal food supplements is being questioned in the US and Europe, that there should be a recommendation to consider the supply of herbs supplied by herbal practitioners as herbal food supplements. This will increase the risk to public safety."
---
BHMA MEMBERS DISCOUNT – BOOK OFFER
"Plants and the Plague ' The Herbal Frontline" by Marcus Harrison is a real 'must' for anyone with an interest in, or studying the History of Medicine or Herbalism. Published in February 2015 it coincides with the 350th anniversary of the Great Plague of London. The book looks at around three dozen plant species used in the herbal medicine response to plague and pestilence from 14th to 19th centuries.
Marcus Harrison is offering BHMA members his book at £8.00 (RRP £12.50) if bought direct from him by emailing wildfoodie2013@yahoo.co.uk or by telephone 01208 873788. Click Here for more information about the book.
---
US controversy rages over quality of herbal dietary supplements and flawed methodology
The recent controversy surrounding the withdrawal of herbal dietary supplements in the US based on DNA profiling, reminded the BHMA of the excellent article that Professor Adrian Slater and his team wrote for the BHMA Post in December 2013. Professor Slater has agreed that this article on DNA techniques used in botanical identification can be more widely distributed, and it is therefore detailed <<here>> in its entirety.
---
DIARY DATE

6 November 2015: A conference in London for the pharmaceutical industry on good pharmacovigilance practice (GPvP).
<<Click here>> for more details.
---
BHMA Supports ABC-AHP-NCNPR Botanical Adulterants Program
The BHMA confirmed its support of the Botanical Adulterants Program (BAP) on January 7, 2015. In an email to Blumenthal, BHMA Chairman Dick Middleton, PhD, commented: "The BHMA is delighted to endorse and support the ABC-AHP-NCNPR Botanical Adulterants Program. The principle objectives of the Program are pivotal to the ongoing development of high-quality herbal health products in the US and related markets, including the United Kingdom. The core thrust of the program involving education and training will also lead to the increasing global availability of high-quality herbal materials to herbal product manufacturers. This will help to create more robust, high-quality supply chains."
<<Click here>> for more details.
Published: January 2015
---