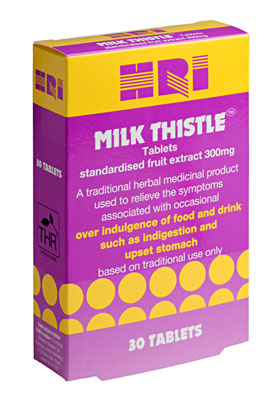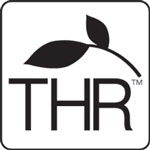 Product Name
Active ingredients per tablet
Each film-coated tablet contains 300 mg of standardised extract (as dry extract) from Milk Thistle fruits (Silybum marianum (L.) Gaertner) (equivalent to 7200mg – 8100mg of Milk Thistle fruits) corresponding to 174mg of silymarin, calculated as silibinin)
Pack size(s)
30 Tablets
Permitted claim
HRI Milk Thistle is a traditional herbal medicinal product used to relieve the symptoms associated with occasional over indulgence of food and drink such as indigestion and upset stomach, based on traditional use only.
Further information from the manufacturer
Dosage
Adults and the elderly: The recommended dosage is 1 or 2 tablets daily..
If you have had too much to eat or drink HRI Milk Thistle can help to relieve the symptoms of your over indulgence such as an upset stomach or indigestion. Take HRI Milk Thistle before and after a night of over indulgence.
This product has high levels of active Silymarin in each tablet.
Always read the label and leaflet before taking the product. Available on line at the product website link below
Registration holder and address
The Herbal Research Company Limited (trading as Jessup Marketing), 27 Old Gloucester Street, LONDON WC1N 3XX.
Traditional Herbal Registration number
THR 02231/0004
Manufacturer's web link