British Herbal Compendium Vol 2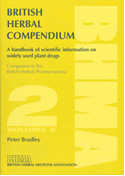 A handbook of scientific information on widely used plant drugs
ISBN 0-903032-12-0 - Hardback - Published in 2006 This new volume of the Compendium, written by Peter Bradley, is the most ambitious work ever published by the BHMA. In a concise and readable style the monographs summarize and review the evidence base for many important phytomedicines, providing up-to-date information of interest to everyone in the field. ,
Click here to view a sample monograph (Sage Leaf).
At a time of wide public interest in herbal medicines, the need has never been greater for up-to-date summaries of the available scientific knowledge on medicinal plants. This authoritative text will be invaluable to all involved in research, manufacture, supply or control of herbal medicines and to practitioners and students of phytotherapy. Based primarily on published research and broadly following the concise format of Volume 1, but in greater depth, each monograph has sections on constituents (with structure diagrams), pharmacology and clinical studies together with therapeutics, safety data and regulatory status. References to worldwide scientific literature form a key part of the text and over 3000 full citations are included. The monograph on Echinacea (12 pages; 73 references, 3 tables of clinical studies) covers all the species and plant parts used therapeutically, differentiates their constituents in separate subsections and collectively reviews all the randomized placebo-controlled studies published up to 2005.
What others have said about this book
Phytomedicine
2008; 15: 312 "It is one of the best-researched and well-documented references on the why's and how's for the use of herbal medicine/dietary supplements as alternative therapy in primary health care". "Of particular usefulness are the clinical studies and therapeutic sections…." "In summary, this reviewer recommends the addition of this book to health science libraries, complementary and alternative medicine (CAM) practitioners, researchers and students, as well as pharmacies/pharmacists, and other health practitioners".
Harry H.S. Fong, Professor Emeritus of Pharmacognosy, College of Pharmacy, University of Illinois at Chicago.
The Pharmaceutical Journal
2007; 279: 77 "Clinical studies…..are discussed in a way that makes evaluating the evidence as easy as possible" "it is the clarity and ease of navigation which makes this book stand out from other books on herbal medicines"
Professor Elizabeth Williamson, School of Pharmacy, University of Reading
Journal of Ethnopharmacology
2006; 107: 470-1 "provides a state-of-the-art, critical review of the botanical drugs included.…an important addition to the library of anyone with a genuine interest in any aspect of medicinal plant research".
Professor Michael Heinrich, Centre for Pharmacognosy and Phytotherapy, University of London
Focus on Alternative and Complementary Therapies (FACT) 2007; 12: 65
"a comprehensive resource of the most important plant-based drugs…well laid out, easily accessible…gives key facts in a succinct style" "I can recommend this book to anyone with an interest in herbal medicine"
Max H Pittler, Peninsula Medical School, Universities of Exeter & Plymouth
American Herb Association Quarterly
2008; 23 (1): 8 "It was worth the wait for such a complete volume….one of the most accessible technical references to herbal science".
Kathi Keville, Director, American Herb Association, Nevada City, California
Australian Journal of Medical Herbalism
2006; 18: 122 "An essential inclusion in your clinical reference material"
Adelaine Browne
List of monographs in the BRITISH HERBAL COMPENDIUM Volume 2
Agnus Castus Vitex agnus-castus, fruits
Agrimony Agrimonia eupatoria / procera, flowering tops
Ammoniacum Dorema ammoniacum, gum-resin
Angelica Root Angelica archangelica, rhizomes and roots
Aniseed Pimpinella anisum, cremocarps
Arnica Flower Arnica montana, flower-heads
Artichoke Leaf Cynara scolymus, leaves
Ascophyllum Ascophyllum nodosum, thalli
Barberry Bark Berberis vulgaris, stem-bark or root-bark
Bayberry Bark Myrica cerifera, root-bark
Birch Leaf Betula pendula / pubescens, leaves
Black Haw Bark Viburnum prunifolium, stem-bark
Black Horehound Ballota nigra, flowering tops
Boldo Leaf Peumus boldus, leaves
Broom Top Cytisus scoparius, flowering tops
Calamus Acorus calamus, rhizomes
Calendula Flower Calendula officinalis, flowers
Capsicum Capsicum annuum / frutescens, fruits
Caraway Fruit Carum carvi, mericarps
Cardamom Fruit Elettaria cardamomum, fruits
Cassia Bark Cinnamomum cassia, bark
Centaury Centaurium erythraea, flowering aerial parts
Cinnamon Cinnamomum zeylanicum, bark
Clove Syzygium aromaticum, flower buds
Coriander Coriandrum sativum, cremocarps
Couch Grass Rhizome Agropyron repens, rhizomes
Cranesbill Herb / Root Geranium maculatum, aerial parts / rhizomes
Echinacea Echinacea species, rhizomes and roots / aerial parts / pressed juice
Eucalyptus Leaf Eucalyptus globulus, leaves
Fennel Foeniculum vulgare, cremocarps and mericarps
Fenugreek Trigonella foenum-graecum, seeds
Galangal Alpinia officinarum, rhizomes
Ginkgo Leaf Ginkgo biloba, leaves
Goldenrod European Solidago virgaurea, flowering aerial parts
Grindelia Grindelia camporum / squarrosa / robusta / humilis, flowering tops
Hamamelis Bark Hamamelis virginiana, bark from stems and branches
Hamamelis Leaf Hamamelis virginiana, leaves
Hamamelis Water Hamamelis virginiana, distillate from dormant twigs
Hawthorn Berry Crataegus monogyna / laevigata, ripe false fruits
Hawthorn Leaf and Flower Crataegus monogyna / laevigata, flower-bearing tips
Heartsease Viola tricolor, flowering aerial parts
Horse-chestnut Seed Aesculus hippocastanum, seeds
Hydrangea Hydrangea arborescens, rhizomes and roots
Hyssop Hyssopus officinalis, leaves and flowering tops
Iceland Moss Cetraria islandica, thalli
Irish Moss Chondrus crispus, thalli
Java Tea Orthosiphon stamineus, leaves and tops
Juniper Juniperus communis, ripe cone berries
Kava-Kava Piper methysticum, rhizome
Lady's Mantle Alchemilla vulgaris, flowering aerial parts
Lily of the Valley Convallaria majalis, flowering aerial parts
Lovage Root Levisticum officinale, rhizomes and roots
Marshmallow Leaf Althaea officinalis, leaves
Maté Ilex paraguariensis, leaves
Melilot Melilotus officinalis, aerial parts
Melissa Leaf Melissa officinalis, leaves
Milk Thistle Fruit Silybum marianum, mature fruits
Mugwort Artemisia vulgaris, leaves and flowering tops
Mullein Verbascum thapsus / densiflorum / phlomoides, flowers / leaves
Nettle Root Urtica dioica, rhizomes and roots
Oak Bark Quercus robur / petraea / pubescens, bark from young branches
Parsley Root Petroselinum crispum, roots
Pilewort Herb / Root Ranunculus ficaria, flowering aerial parts / tuberous roots
Poke Root Phytolacca americana, roots
Pumpkin Seed Cucurbita pepo (certain cultivars), seeds
Queen's Delight Stillingia sylvatica, roots
Raspberry Leaf Rubus idaeus, leaves
Rosemary Leaf Rosmarinus officinalis, leaves
Sage Leaf Salvia officinalis, leaves
Saw Palmetto Fruit Serenoa repens, ripe fruits
Shepherd's Purse Capsella bursa-pastoris, aerial parts
Skullcap Scutellaria lateriflora / galericulata, flowering aerial parts
St. John's Wort Hypericum perforatum, flowering tops
Thyme Thymus vulgaris / zygis, leaves and flowers
Vervain Verbena officinalis, flowering aerial parts
Violet Leaf / Flower Viola odorata, leaves / flowers
White Deadnettle Lamium album, flowering aerial parts
Wild Thyme Thymus serpyllum / pulegioides, flowering aerial parts
Wild Yam Dioscorea villosa, rhizomes and roots
Wormwood Artemisia absinthium, basal leaves and/or flowering tops
How to order
Click here for a downloadable price list/order form for all BHMA publications (Word) or
Click here for a downloadable price list/order form for all BHMA publications (pdf)
For further information on BHMA publications, please contact:
BHMA
22Southfield Road
Westbury-on-Trym
BRISTOL
BS9 3BH, U.K.
Tel: +44 (0) 117 962 9954